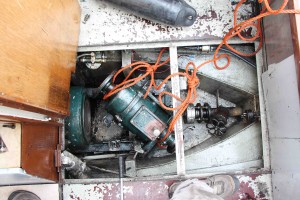 All trussed up with no place to go. Djes transmission in bondage. Gerry says it hurts to be kind
One of life's great questions asks whether man is inherently good, evil or neither? It's a conundrum for sure. Even cannibal Jeffrey Dahmer might have be seen comforting a crying baby before tossing him onto a sizzling grill. Humans can be so complicated.
In the face of all the crazy scheiße that's going down around the world with all haters hating I have been heartened greatly by the ease with which so many have offered genuine hospitality and personal kindnesses. As fun as it might seemingly appear to be an evil mastermind (bwahaha) I believe that at the basis of all of us is a shining gem of good that is our guidance. Unfortunate is that for many time and circumstance have worked to scar over the good and the way is lost. For others, and I like to think the vast majority, an act of kindness is the primary default option. We are wired to do good. Here on the river not a day has gone by without someone going well out of his or her way to work with us (the crew) and help us along. In fact, you could say that our tremendous need allows people the opportunity to do good things. We are like a big floating karma generator.
When I think of people like Hans in Dusseldorf who let me stay tied up to his house for four days I am amazed. Consider that our actions are often akin to having someone ring your doorbell long after dinner and say their car has died in front of your house and may they use your toilet, phone, shower, refrigerator and Internet. People like Hans say yes. Then they ask if they may also drive you to the grocery and hardware stores.
On my way to Bonn to use the Internet at Starbucks my German phone rang. Over the clatter of the SBahn a man was trying to tell me that Volvo had contacted him and he wanted to know what was wrong with the boat. He spoke only German. I told him as best I could that I would phone right back. I sped to the coffee shop and found a seat with a wall plug and got in line for a tall cappuccino. In line I asked four or five people if they spoke English and if so would they make a phone call for me. Everyone was too busy. The same was largely true among the 35 or so people sitting along windows and in the big reading chairs. Across the way from my seat, a young couple was deep in conversation. I figured they were about 20 years old. I approached them just as one was about to leave. I pitched. Boran said that yes he spoke English but was just leaving. No worries though, he would be happy to wait a bit and make the call. I dialed and he talked and wrote. Together we got an appointment for Monday with a mechanic 60 kilometers from the boat near Koblenz.
Boran took off his coat and sat back down. He said his appointment could wait and he would like to talk. He was with Enka and they were just finishing their university prep for Economics and welcomed a chance to speak English outside the classroom. He was originally from Turkey and she was Azerbaijani. I asked them what they thought about the future and did they have hope.
"Everything is so uncertain," Enka told me. "I am not so sure this is a good time for family."
Boran was a bit more upbeat. "We are studying economics and in our classes we are examining the need for different models where people share more evenly. I don't think schools would think this way 20 years ago. There is change and I think it can be good if we make it so."
Back at the boat Christian is working the dock. He comes after dinner or when he has a spare minute to fix things like the gangplank or keep his Carver 22 is showroom shape. Here at Wassersportverein Honnef his volunteer position would be similar to that of a board member at a Winnipeg Community Club. Christian is responsible for the motorboat end of things along the southern slips that are home to 35-foot to 45-foot fiberglass harbour cruisers that dwarf Djes. Christian is a funeral director who tells me he has to keep a constant hand on the business to keep its heart pumping. Competition is hard and the industry is changing fast. His grandfather started the business and Christian took up carpentry before getting involved. "No one gets measured for a coffin anymore. My grandfather would have come in with his tape and then gone back to the shop to make the box. Now people are looking at cardboard to save money," he says, telling that's its been hard to even take a vacation because it impacts the order book in his small but successful business. Christain is typical of many Germans in the middle class. He owns his own shop. In Germany more than 70 per cent of employment comes from small and medium-sized business called the Mittelstand. This middle ground has been a backbone of the country's Juggernaut economic growth over the past 50 years and is today responsible fr more than $3 trillion in business. Yes, Germany is home to Krupp and Bayer, Mercedes and Thyssen, but it's also home to and incredible array of independent manufacturing like Christian's casket biz.
Christian has been yet another example of how people will step away from their day-to-day affairs to help if they can. Between funerals, Christian would come down to have a sandwich or maybe a beer on the dock. I would pop my head out of the cabin like some perky hamster in a pet treat ad and walk down the dock and join him while he ate. He would tell me about the morning's funeral service. Today's funeral was a sad affair with a lot of weeping and carrying on. As a funeral director you get used to it, he told me. I told him about the fight at my brother's service where his ex-wife showed up at the ceremony against the wishes of the family and the current wife tried to through her out. Even in death he had girls fighting over his body.
"Nothing like that has ever happened. We would not have allowed her in."
"You don't know Carol," I said back.
When the group on the dock saw the disgraceful bilge I had under the floorboards of the boat, they lent a hand. "The boat must be clean before the mechanic comes. He must not get his hands dirty or he will not want to do the job," says Peter, a man who is a retired member of the Wasserpolizie. Funeral director Christian agreed. The three of us moved off the bench and I pulled up the floor on the boat. Peter goes to get an extension cord so I can operate the shop vac/bilge pump. He also brings a 20 ltr. Jerry can to store the bilge. He doesn't say a word. Christian says he speaks no English, but I know he does and suspect he is fluent. He has the look of a quiet observer who likes to measure his responses before hand. Time and again he proves to be a stand up guy who helps out big time when it's needed.
This day Christian and Peter sat on the bench and asked me how it was all going. I told them I was discouraged getting the boat fixed in Germany. Everyone had ducked the job. I told them I was sure I could get it fixed in Holland and was considering trailering the boat to Nijmegen or Arnhem. Peter nodded and walked away. He called Heinz.
It was no more than 15 minutes before Heinz's Mercedes wagon pulled up dockside. Out of the car came a man happily enjoying his later-in-life years. He came over and discussed the matter with the German guys on the dock and then came over to have a look. He pulled out a cigarette and smoked as he watched the various lack of actions between the motor and transmission. "Turn it off," he said. He walked back over to Christian and Peter and spoke to them. Christian said to me, "He knows a man who will come to look at it. He will call him."
With-in two hours I was standing beside Gerry and the boat was being fixed.
I had thought the repair would be a simple matter for a skilled hand. Certainly, Gerry was able to do the repair, but the age of the engine, and the odd sized Swedish parts made life tough for him as he squeezed his 6'4'' frame into the tiny engine compartment. Thursday was his day off. He had wanted to get the job done in the morning and spend the rest of the day with friends. Instead, he spent the afternoon muscling the pieces into shape so I could get on the river Friday.
The next morning the engine was fired and all the lines cleared away for a day's running to Linz and beyond. I edged Djes out of the slip and into the stream for a bit of a test run. We moved easily up and down the harbour doing lazy 's' turns and backing up. All seemed good to go and I made a final turn before heading onto the Rhine for the drive across to the starboard side. The speed of the current caught me off guard as I narrowly missed colliding with the swinging port channel buoy. I swung in behind a labouring barge and settled in for a long day with few kilometers. Across from me the sign proclaiming kilometer 642 stood unmoving. For an hour I had pleaded with Djes to give it a bit more and pass the sign. The best she could do was stay still in the current. I decided to cross the river and see if the current was less on the port side. I swung the wheel and began the quick ferry across. Unfortunately the current was even stronger on the port shore and Djes started to slip back and the engine began to struggle. I was smelling a lot of smoke and a look out the back door showed billows coming from under the rear hatches. I was fighting too hard to get back to harbour and at this moment Djes engine revved down and died leaving me unable to steer in the shipping channel with two ships coming hard. I wish I could say I was calm and relied on my training. As is my custom I immediately swung into hyper overdrive. I attempted to sound Djes horn – four long blasts to indicate I am unable to maneuver. The horn choked barely one toot. I ran along the side gangway to the bow to throw anchor. Peter had already laughed at my anchor telling me it was useless. Now with only five feet of chain in 20 meters of water, useless it was. I threw it anyway. I ran back to the wheelhouse and tried the engine again. It started. The smoke was clearing and I could see that it was coming from the rear most section of the prop shaft. There was oil everywhere. I attempted to loosen the rub but the shaft was simply too hot to handle even with gloves that caught fire while I handled the bolts and flange. The decision was made to beach the boat while I still had maneuverability. A spot was found and I was able to edge her over close to shore and jump out to tie her to a tree trunk. I climbed back in and stood on deck wondering what to do when I heard a whistle. It was Peter. He had been watching and was just a few feet away asking what happened. I told him. "I'll get another boat to pull you back to harbour," he said.
I went back to wait. An hour later Christian and his father as well as Peter were calling from the back of the Carver 22 for me to start the engine and come out where they could get me. It was here that I discovered my reverse gear had gone back home to Stockholm leaving me to use a barge pole for backing up. Unfortunately, the barge pole proved ineffective and I had to resort to plan 'C'. I took off my shoes and rolled my pant legs. I jumped. I found myself waist deep in water. So much for rolling pant legs I thought. I pushed and as the boat caught current I tried to swing myself up onto the bow that was a good two feet above my head. The boat was getting farther and farther into the current and I was holding on to the front rails and being dragged. If only my dad could see me now. Finally, I pulled my sopping mass onto the deck and ran around to the cabin to get control and head over to Peter's Carver cruiser where the three waited with coiled rope.
The pull back was un-eventful. Christian's boat handled the action easily. He brought me up close to the docks. I was unhooked. I was able to slowly power into a berth. The question now was what to do with the broken sailor. I had time and I had options. One thing I have learned while voyaging is it's never wrong to wait on a solution. Ok, some solutions like those that require fire extinguishers ask for quick work, but for many of life's little conundrums a good night's sleep or a few days thinking never hurt. Till I come up with a solution to this challenge we are tied up to a dock in Bad Honnef, Germany hoping that circumstances and human kindness will again come to the rescue.