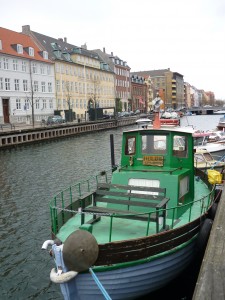 The journey is a trip. This has long been my motto for travel. Indeed, as Frank Zappa once shouted to a crowd in San Francisco – 'You should be diggin' it while it's happening, man.' This is the Wolseley Voyager, a small motor craft that will ply the water between the North Sea from a point near Monster to the peppery coast of the Black Sea somewhere in Romania. The course will bob through seven countries on Rhine and Danube waters with only inexperience and lack of resources as a guide on this solo journey.
My thinking has always been that stuff gets in the way. The goal of the Voyager is to do away with trappings and find life in the process. Certainly, my life to this point has been blessed beyond belief with a stunningly gorgeous and loving partner, wild children and home amid the forested streets of Wolseley. The Voyager will see no hotels or china plates. I'm not even certain that as I set out in sub-zero weather there will even be heat. What there will be is a wealth of experience as I work my way through canals and river streams on what will amount to a floating shed.
For months I have been scouring the pages of Dutch personal ads looking for a small craft to take me where I want to go. I've been sending Google translated text to complete strangers and then phoning them only to have almost every person hang up. Even now I have only a few leads and take these with me as I head out to hit on England for some pre-trip training at the National Nav School outside London. Once in Holland at my base in an old jailhouse, I will work the phones with some hope of finding a small cruiser to take me down the Waal and into the Rhine proper for the run to Frankfurt and easier currents.
Behind all this is a quest for action on a personal level where the helmsman is solely responsible for the crew. Too often have I felt the sting of inputs in my daily business where life gets edited and shaped to conform. The Voyager's guiding star will be self-organization and consensus with an eye toward direct action of soul. This will guide the craft over 3200 kilometers of waters, through some 100 locks, and around the barricades of coercive authority.
My father used to tell me I was simply a nut. I now have an opportunity to prove this fully true. The Wolseley Voyager as a project is a machine built to deliver experience. In a nutty half-baked way I am merely putting myself in front of the gears and pulleys that will create a purposeful alternation to my daily grind. Once the switch is flipped I'm on my own to make choices in a fresh world where German barges send waves over gunwales and Hungarian river police demand my papers.
Join The Voyager on this quest for simplicity and personal domain. Next up will be the crew's account of a day in London where The Voyager stands at Speakers' Corner to assault any who may come within earshot. Hear ye, hear ye! The Nut is about to speak!